All news
Responsive Payment Page
22/11/2019
Your payment page is the last page on your customers' journey on your web shop. It is your chance to define their experience.
Payment is the final step to convert a transaction into a successful sell. With the Ingenico responsive payment page, you, as a merchant can provide the customer with a pleasant experience through the ordering process, until the end.
This last mile of conversion is sometimes underestimated. You invest a lot of effort developing your web shop, but often, the payment page is not included and it requires a lot of knowledge and expertise to fulfil the multiple requirements of payment schemes.
Ingenico, as your payment partner, makes it all simple for you! Payment is our business and we provide you with a responsive payment page that you can activate in one click! This way, you can keep focusing on your web shop while we take care of your payments! In this video, we walkthrough how you can successfully active our responsive payment page template on your webshop.
To make your payment page responsive, the activation is easy. Simply go to your Ingenico ePayments Backoffice via the menu: Configuration > Template > Template selection > ACTIVATE.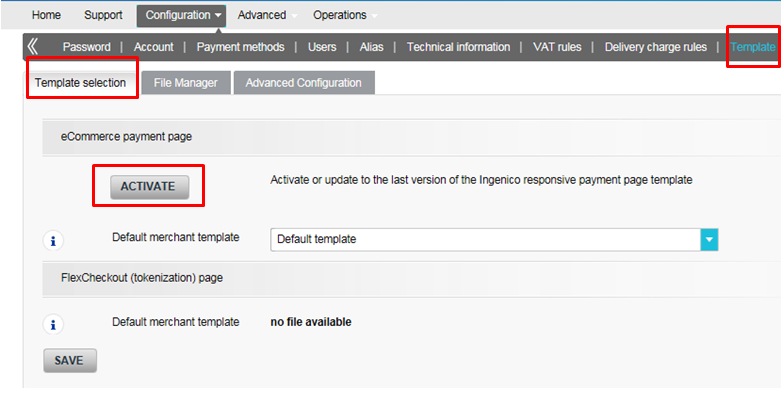 Want to customize your responsive payment page?
Additionally, you may adapt the standard template to your needs. With a few small adjustments, you can easily customize the payment page to match your shop or brand by uploading your logo as "logo.png" via the menu: Configuration -> Template -> File Manager. You can design your template yourself or make minor adjustments by using our demo templates as a basis. These can be downloaded free of charge from our support website.
Why moving to the responsive payment page?
Ingenico ePayments offers a clear and concise payment page in 25 different languages that guarantees a responsive design for desktops and mobile devices and which conforms to the PSD2 (3DSv2) standards.
A survey amongst the 100 largest merchants who recently activated our new responsive payment page shows an average increase in sales conversion of 7%. Some merchants have even seen an increase of more than 20%.
By having a responsive payment page, your customers will be more confident in your payment process and finalize their payment. This converts to higher conversion and more sales!
Please note: If you are using a shopping cart (extension) like Magento, you are probably using one of their templates. However, you also have the option of using your own Ingenico ePayments template page.